Tag: SousVideMagic
by jean-francois on Jan.23, 2010, under Equipments & Accessories, Time and Accurate Temperature
Today Polyscience made the demonstration that a non stired water bath cannot be as efficient as an immersion circulator. It is funny to see that Polyscience directly mentions Sousvidesupreme in the TAG of the article.
Polyscience video indicates clearely that a non stired water bath has a longer response time to reach the desired core temperature. Therefore, it is obvious that Douglas Baldwin cooking tables sould be used with care. Douglas Baldwin indicates in the Pratical Guide to Sous Vide "With all these digital controllers, I highly recommend setting the temperature offset (measured near the temperature at which you wish to cook) using a high quality digital thermometer. Indeed, at the default settings the thermistors used in the above controllers can easily be off 2–4°F (1–2°C)".
Freshmealsolutions mentions clearely in the user manual of the SousVideMagic : "If you don't have a proper food core temperature sensor probe, always cook at desired core temperature settings for the duration as specified by reliable recipes with an additional safety factor of at least 25% longer…"
In addition the manual indicates "The default settings are designed to overshoot 1 or 2 degree higher for safety reasons. You can reduce the overshoot by making your own PID adjustments. See the document "PID Tuning"."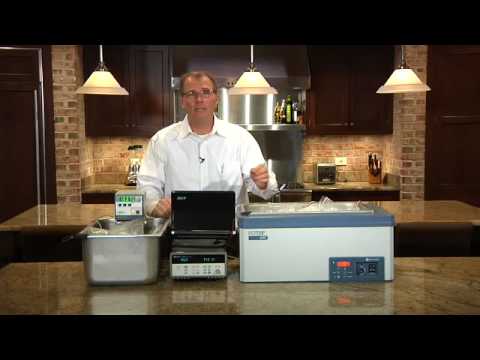 Jean-François
14 Comments
:Douglas Baldwin, immersion circulator, Non stired water bath, PID controller, Polyscience, sous vide, Sous vide equipment, SousVideMagic, Sousvidesupreme, Thermal circulator
more...
by jean-francois on Nov.21, 2009, under Time and Accurate Temperature
Three months ago I tried a soft boiled egg at 63°C during 1 hour. I have admitted that it was not the perfect egg for me and promissed to make another try. This time I cooked an egg 50 minutes at a constant 64.5°C temparature.
And here is the result!
(Soft boiled egg cooked at 64.5°C during 50 minutes)
 The egg at 64.5°C has nothing to do compared to the 63°C one (see the last picture down this post). The appearance of the 64.5°C is better, the white egg is more compact and doesn't fall down like the 63°C one.
(Soft boiled egg cooked at 64.5°C during 50 minutes)
The yolk is also very different compared to the 63°C one.
(Soft boiled egg cooked at 64.5°C during 50 minutes)
See bellow the picture I made 3 months ago of the 63°C soft boiled egg with the Sousvidemagic and above the 64.5°C egg with the swid of Addélice. This is crazy to see how a difference of only 1.5°C can change so much the texture of an egg.
As I told it before I didn't really like the 63°C egg but the 64.5°C was fantastic!! Absolutly incredible…I strongly recommend anybody trying it!
I read on internet that such egg was impossible to do without the precision and stability of an immersion circulator. I know understand why. If the temperature variation is equal or higher to 1°C then this can change the final texture of the white egg and yolk. The cool thing is also to be sure to reproduce the same result each time you set your immersion circulator at 64.5°C! I am definitely getting found of this cooking equipment.
(63°C soft boiled egg cooked during 60 minutes)
Jean François
1 Comment
:64.5°C, Addélice, Constant Temperature, Fresh Meal Solutions, immersion circulator, Soft boiled egg, Sous vide at home, SousVideMagic, Swid, Thermal circulator, water bath
more...