Tag: Equipment
by jean-francois on Aug.16, 2010, under Equipments & Accessories
Today I saw an interesting piece of sous vide cooking equipment called Chef Touch System from KitchenAid. This concept gather a vacuum chamber sealer (a must in terms of vacuum that gives you the possibility to add liquids such as oil or a marinade in you pouch without destroying the machine) a shock freezer (very usefull and safe device if you want to keep meats in the freezer after you cooked it at low temperature) and a steam oven.
The concept of this all in one sous vide equipment gives an idea of what could look our kitchen in a close futur. The only weak point of this beautiful item is the steam oven. Why not replacing it with a PID controlled steared water bath?
Any idea of the price of the Chef Touch System and availability?
Information added October 23rd :
Thanks to N.Lavirotte, we now know the ChefTouch System is available since September in Europe. Official retail price are as follow :
-Vacuum chamber : 2,950 € incl. VAT
- Shock Freezer : 5,000 € incl. VAT
- Oven : steam ( 1,550 €) combi (1,850 € ) incl. VAT
- Kitchen high cabinet : 2,700 € incl. VAT
Total = 12,500 € (combi oven) incl. VAT (approx. 17,500 USD)

JF
2 Comments
:Chef Touch System, Equipment, immersion circulator, KitchenAid, Shock Freezer, Sous vide at home, sous vide cooking, steam Oven, Vacuum Chamber Sealer
more...
by jean-francois on Mar.02, 2010, under Equipments & Accessories
Polyscience launched on Youtube a video about their new Immersion Circulator, the MX version.
The design of this equipment is fantastic but will this immersion circulator be affordable for sous vide chefs and individuals? Except this video, no information is available on the net. If you have some, feel free to tell us!
Here is the Youtube video!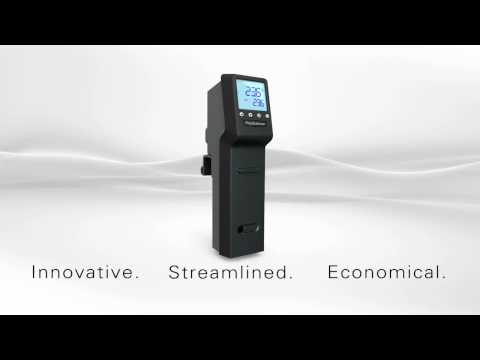 Jean-François
5 Comments
:Equipment, immersion circulator, Polyscience, Polyscience MX imersion circulator, sous vide
more...