by jean-francois on Jan.23, 2010, under Equipments & Accessories, Time and Accurate Temperature
Today Polyscience made the demonstration that a non stired water bath cannot be as efficient as an immersion circulator. It is funny to see that Polyscience directly mentions Sousvidesupreme in the TAG of the article.
Polyscience video indicates clearely that a non stired water bath has a longer response time to reach the desired core temperature. Therefore, it is obvious that Douglas Baldwin cooking tables sould be used with care. Douglas Baldwin indicates in the Pratical Guide to Sous Vide "With all these digital controllers, I highly recommend setting the temperature offset (measured near the temperature at which you wish to cook) using a high quality digital thermometer. Indeed, at the default settings the thermistors used in the above controllers can easily be off 2–4°F (1–2°C)".
Freshmealsolutions mentions clearely in the user manual of the SousVideMagic : "If you don't have a proper food core temperature sensor probe, always cook at desired core temperature settings for the duration as specified by reliable recipes with an additional safety factor of at least 25% longer…"
In addition the manual indicates "The default settings are designed to overshoot 1 or 2 degree higher for safety reasons. You can reduce the overshoot by making your own PID adjustments. See the document "PID Tuning"."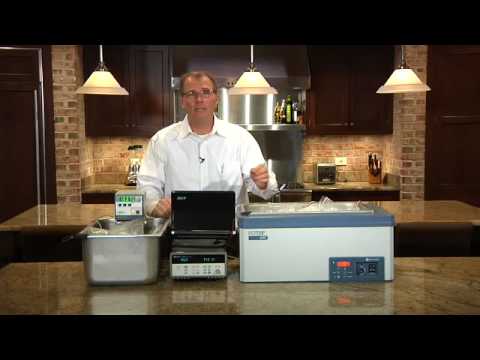 Jean-François
:Douglas Baldwin, immersion circulator, Non stired water bath, PID controller, Polyscience, sous vide, Sous vide equipment, SousVideMagic, Sousvidesupreme, Thermal circulator