by jean-francois on May.18, 2009, under Equipments & Accessories
There are basically 4 techniques to cook sous vide with low and constant temperature:
with a gas/electric/halogen stove,
with a water bath (bain marie),
with a cooking controller,
with an immersion circulator.
It seems each technique has advantages and disadvantages. Cooking sous vide with a stove is definitely the cheapest way to proceed as the only thing you need to purchase is an external digital thermometer (approx. EUR 30).
Today's post goal is to determine if a 58°C (136.4F) temperature can be kept constant with a gas stove. The Youtube video below seems to confirm this possibility. But how difficult is it really? I recommend anybody taking the time to watch this funny video with its typical British humour. Cooking and humour, what a fantastic combination!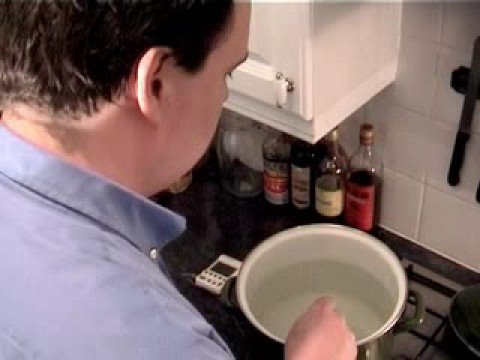 As said this is caustic humour!
Now lets try the gas stove sous vide cooking technique.
First I had to find a gas stove which a kind of issue when 85% of the people have now electric or halogen stove. I found it just visiting my old mother and get the biggest container I could find in her kitchen. I finally choose the container of a Cocotte-Minute (pressure-cooker) in which I poured 4 liters of hot water coming from the pipe. The more water you add the less variation in temperature we should theoretically have for our experiment. My thermometer indicated 45°C (113°F), I lighted the gas et set it at the maximum power. It took 6 minutes to reach my 58°C (136.4°F) goal. I lowered the gas but the temperature reached anyway 60°C. Therefore I added 8 ice-cubes in the water to lower the temperature until 58°C (136.4°F).
Then I lighted again the gas and set it at minimum. You'll remark in the chart below that I succeeded in maintaining the temperature in the range from 58°C (136.4°F) to 59°C (138.2°F) but after a great deal of effort.
To sum up I would say that sous vide cooking with a gas stove works, is price competitive but is obviously not a serious option. The range of variation in temperature will totally depend on how diligent you will be with the temperature check.  I read several times in books and on the net that a variation of 1°C could have a significant impact of the final foodstuff. Above all you can't prepare a diner for 4 people and spend most of your time watching the screen of your thermometer!
:Constant Temperature, Equipment, Gas Stove, Sous vide Cooker, Sous Vide Cookery, sous vide cooking