by jean-francois on Apr.30, 2009, under Equipments & Accessories
I felt excited when receiving today the LAVA parcel as I knew this purchase represents the starting point of my experiments with sous vide cooking at low and constant temperature.
I took some nice picture showing details of this machine. This vacuum device looks easy to use and very robust. One thing is for sure…the design of the LAVA  machine is not attractive but this is not the reason why I chose it.
In my opinion, on particular thing differentiates the Lava 100 from its competitors (in the same range of price approx. EUR 250). It is the "security box" located in the middle of the panel of the vacuum machine. The main issue when vacuuming is that you can't do it with liquids except if you benefit from a professional vacuum machine. Nevertheless accidents can also happen with professional vacuum machine. The funny video below illustrates what I am saying. This video is funny because a professional cook explains (in French) how to avoid leakage of liquids when vacuuming…the moral of this video could be "do what I say not what I am doing".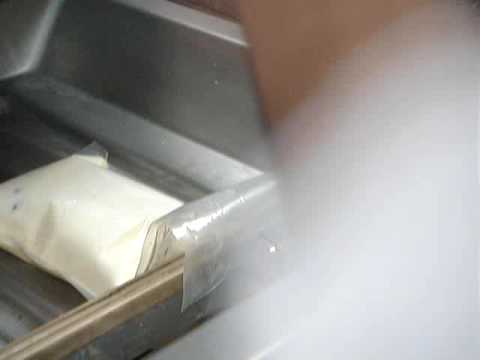 This "security box" allows minor mistake when vacuuming with a juicy ingredient. The manual of the LAVA also indicates a way to include, for example, a marinade in a sachet to be vacuumed. You freeze the marinade and then include it in the sachet. Why didn't I think about it before! The manual says that you don't need to get the marinade totally frozen, just hard enough not to leak.
Jean-François
:Equipment, Lava, Sous vide Cooker, Sous Vide Cookery, sous vide cooking, Vacuum