Archive for October, 2009
by jean-francois on Oct.28, 2009, under Equipments & Accessories

I am sorry not being able to answer to all your questions about the Swid but I am very busy at the moment. The best way to illustrate the precision, size and power of the pump is to watch the video I just made.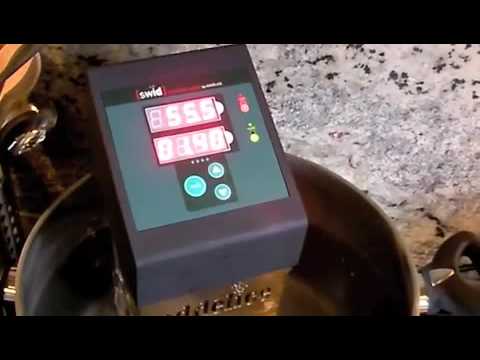 I didn't have time to translate my comments in English but I am sure you'll understand.
So far I am very satisfied of this appliance which is the most competitive immersion circulator of the market: EUR 449 EUR 475 incl. VAT and shipping costs.
Here is a comparision table of immersion circulators dedicated to sous vide.
Addélice confirmed the swid will be available this week.
Jean-François
6 Comments
:Addélice, Appliance, Equipment, immersion circulator, sous vide, Sous vide Cooker, Swid, Test, Thermal circulator
more...
by jean-francois on Oct.21, 2009, under Equipments & Accessories
Two weeks ago, I have been contacted by Addélice who has proposed me to test their new immersion circulator dedicated to sous vide cookery.
I was honored by their proposal and, as you can imagine, I have accepted!
I received the Swid this morning and had only time to take some pictures before leaving. I am very excited to share my first impressions about this sous vide appliance!
I was very surprised by the size and the weight of the Swid. I had to give back the Julabo EC that was borrowed to me during summer holidays and therefore I can't show you pictures to compare the 2 appliances. Nevertheless I took some pics to compare the Swid with the SousVideMagic.
The Swid is compact and can be stored easily in one of your kitchen draws. This is an excellent point.
The casing is amazing, very soft and sensual to the touch. The protection grid is part of the whole metal structure of the Swid. For the record a metal grid is always coming as an option with the other immersion circulator such as Polyscience and Julabo…The Swid grid as a funny design with holes like bubbles carved in the metal.
I didn't have time to try it so far but my first feeling about the swid is excellent. I'll come back to you as soon as I have a little bit more time.
Jean-François
13 Comments
:Addélice, Fresh Meals Solutions, immersion circulator, Sous Vide appliance, Sous vide Cooker, Sous vide equipment, SousVideMagic, Swid, Thermal circulator
more...